Bert Coules
writer director speaker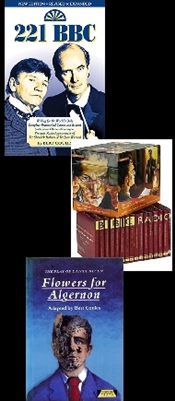 221 BBC is a detailed but informal look behind the scenes of the complete Sherlock Holmes project, both the Conan Doyle dramatisations and the four follow-up series of Further Adventures.
The BBC Sherlock Holmes mysteries, featuring Clive Merrison as the detective along with a host of guest stars, are available as downloads and CDs in various editions.
Flowers for Algernon is the script of my dramatisation of Daniel Keyes' moving science fiction classic about a mentally handicapped factory cleaner who longs to be smart.
The Man in Black is an anthology of horror stories, both classics and newly-written, taken from the BBC late-night series Fear on Four.
Most of my radio scripts are available to buy, either as printed copies or downloads. Please contact me for details.