Bert Coules
writer director speaker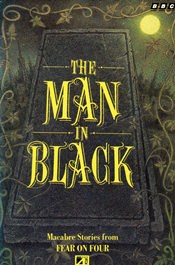 The Man in Black is an anthology of horror stories, both classics and newly-written, taken from the BBC late-night series Fear on Four.
The master of the macabre brings you twenty-five dark stories for uneasy reading... a feast of fear for you to enjoy. Whatever you do, don't turn out the light!
The writers include Roald Dahl, John Wyndham, Bram Stoker, E F Benson, W W Jacobs, Stephen Gallagher and Nick Warburton. Two of my own episodes, Every Detail but One and The Journey Home, are included as stories adapted from the dramas.
The Man in Black is now out of print but I have a few copies still available. Please contact me for details.
back to publications