Bert Coules
writer director speaker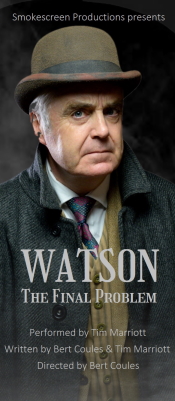 A one-man play written for and with Tim Marriott.
Watson is alone. His beloved wife Mary and the great Sherlock Holmes are gone. London seethes with false reports and rumour. It is time to set the record straight: a tale of long buried secrets, betrayal and death, a journey across Europe pursued by the Napoleon of Crime towards a fatal embrace at the Reichenbach Falls.
Performed in many festival and fringe venues around the country, including a five-star sold-out week at the Edinburgh Fringe 2021.
Future bookings include a week in February 2022 at the Chelsea Theatre in London.
Marriott's rendition is consummate, Coules' direction expertly tailored - a flawless conception - Fringe Review
All enquiries to Smokescreen Productions, please.